A Decade of Laminating - Lamination Ritual evolved out of a Make Life Not Art campaign propagated in 1989 in my studio-turned store/gallery/network/hub: GENERATOR . Originally located in the East Village of New York City, GENERATOR was an open-call for intermedia experimentation, with sound/noise/music and listening experiences. It evolved from studio to record store to concert hall to exhibition space to archive to insane hangout to traveling show - often followed a logic akin to "stream of consciousness". By refusing to take the steps necessary to become commercially viable or to seek public funding, GENERATOR remained flexible, spontaneous, broke and alive, even if these limitations assured eventual extinction. Transformations, evolutions, openings and closings became an integral part of the GENERATOR experience as well as the offshoots down unknown and seemingly unrelated paths. These "seemingly unrelated paths" are as unmistakenly mysterious as is the myth of "haphazardness". One of these paths was the discovery of the sound and joy of the laminator.
I was introduced to laminating while working in a fast paced photlab in midtown. Each day when my boss went out for a coffee I took photographs out of the trash, cut them up and laminated them without looking at them til I got home. Originally it was a kind of therapy-against-boredom, but it evolved into an obsession and source of inspiration. I decided GENERATOR should have a laminator for the public to experiment and play with. People usually associate lamination with the mundane, identification cards, menus, driver´s license, etc... etc. (most people carry a laminated card with them all the time yet many people have never laminated themselves). Given the chance to experiment with making their own laminations the results are inspiring. Somehow the do-it-yourself trends found in more technically advanced mediums bypassed laminating. So GENERATOR became the cutting edge Lamination Headquarters in New York City. (among its other functions.) I learned that lamination produces security, satisfaction and a sense that "something is happening".
Apparently laminating at GENERATOR had a big impact on some people. Gordon Monahan and Laura Kikauka were regulars and thought to invite me to laminate at a Blauhutte Klangzeit 2000 event at Gargoyle Mechinque in 1990 (NYC). During 18 hours of vexations, food and song we laminated our way to lamination heaven. As a noiscian using film projectors and ice crushing machines as instruments it was a logical step to amplifying the laminator. Little did I know the can of sounds I was opening. The rest is history. Laminated objects from that event are still carried by people who attended it . This is an unbelievable testament to the lasting impact of Lamination Rituals. For me it marked the beginning of a series of life process events, with the laminator close at hand. There is no end to the variety of objects laminated since and no end to the enthusiasm, interest, confusion, excitement and fun people have shown when they experience the re-thinking of lamination. During the moment of lamination the transformation of the mundane into official permanence is continually surprising. You never know what you´ll get. It kills the control freak in you. It´s hard to describe. In fact, you can´t really imagine it. You just have to do it yourself. It seems silly or flat on paper but, it´s really mind blowing. No other activity or event more clearly demonstrates the grand sensation that indeed "something is happening". It´s a beautiful thing!
egnekn 1999
Lamination Ritual is a people-participatory activity and sonic listening experience that stimulates the mind and body in-the-moment, while producing an original, tangible, transformed personal object which will last... almost forever.

The lamination is set on a table with paper cutters and glue and stickers etc. A form is designed specific to the event. Could be a noodle, bubble wrap, a fortune cookie, whatever... Contact microphones attached to the laminator amplify the sound of lamination through loudspeakers facing the one laminating. The public is invited to engage their imagination to embellish, objectify and officialize the flat objects they find by adding personal elements and then permanently sealing them with the laminator. Enhanced by "The Sound of Lamination", the process becomes ritualistic and the artist/laminator takes away a documentation/souvenir of this heightened moment. The sound of the lamination create a neurological memory to associate the ritual with the "officialized" document. There´s usually many questions being asked. A constant dialog usually keeps the laminating station looking like a hot dog stand crowed with curious and laminator hungry people.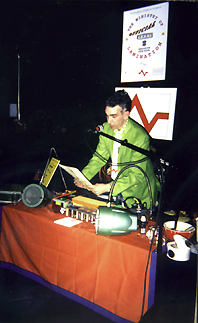 New York City