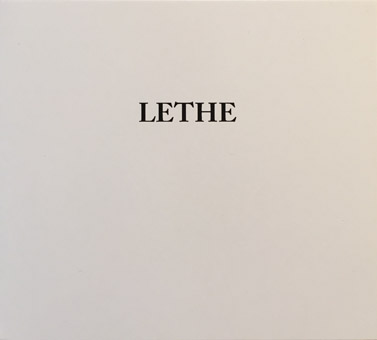 Artists: J/L Duo (Andreas Hiroui Larsson and Johan Jutterström)
Title: LETHE
Format: CD
Catalogue number: FER1121
Time: 36.35 minutes
Andreas Hiroui Larsson ­ Drums, percussion and voice
Johan Jutterström ­ Saxophones
Composed and performed by J/L Duo; Andreas Hiroui Larsson and Johan Jutterström
Recorded live in concert at KHIMAIRA, Stockholm, 29 September 2017
Mixed and mastered by Linus Andersson at Elementstudion, Gothenburg,
3 February 2018
FER1121 (P) € © J/L Duo, Stockholm 2018. All rights reserved. BIEM/N©B

Andreas and Johan have played together since 2003. Their previous album Lovsång och hemlighet / Cerchio was released on Olof Bright in 2012. The last six years Andreas has studied philosophical aesthetics and written extensively on epistemic relativism in European aesthetics, ontology of music as well as performative acts and interpretations and Johan has carried out an artistic research project on choreography and music without instruments. These years have affected their work with J/L Duo to the point where they omitted their instruments altogether and instead went for walks discussing for example ontological ramifications of concepts of music. In the summer of 2015 at a residency in Saint-Erme, France, Andreas and Johan experimented with recording their discussing-while-walking from far away and found out that the recordings offered a border situation where the recorded sounds could be understood semantically, i.e. conceptually as theory, while at the same time be perceived semiotically, i.e. perceptually as music. This experience was so intense in a metaphysical sense that Andreas and Johan acknowledged how J/L Duo made its presence again and announced tentatively to each other that the next years were to be dedicated to focusing on their mutual resurrected friend.Lethe, the river of forgetfulness in Hades, the underworld according to Greek mythology, had been discussed by Andreas and Johan for some years. That this river could be interpreted as a mode of suspension - a metaphor for metaphor - was discussed by them as both a blessing and a curse; a picture of what is, in the sense of Ludwig Wittgenstein's concept of family resemblances, from two historically positioned subjects of today.